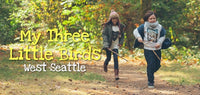 More Than Just A Store
We started My Three Little Birds in West Seattle, Washington for moms and dads who want to dress their kids in awesome brands and styles without breaking into the college fund.  They grow so quickly....we believe in re-using their fashions, toys and gear and improving the future environment for our little birds.
discover tsukihoshi footwear! japan's best since 1873
A great shop with a whole variety of affordable clothing items and more! I'm happy to have a resource like this locally.

Shilla B.
Jennifer, the owner, is a lovely woman and her store is so much more than a consignment store - its an adorable children's boutique!

Kristen M.
Love Love Love this great little store! Exceptional high end consignment items for great prices and lovely locally made new items as well!

Mary E.
these Favorite brands and more